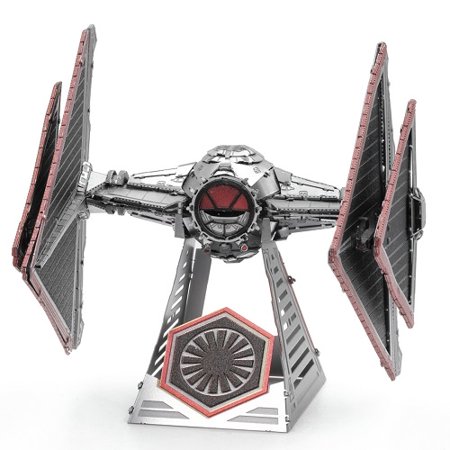 New Rise of Skywalker Sith Tie Fighter 3D Metal Model Kit available!
Walmart has debuted a brand new Rise of Skywalker themed item: a Sith Tie Fighter 3D metal model kit! This kit costs 19.95 and shipping is free.
As of this writing there are only 5 of these 3D metal model kits left in stock so order soon.
According to the details:
The Rise of Skywalker Sith Tie Fighter 3D Metal Model Kit

Superior detail in these do it yourself (DIY) models begin as a 4 inch steel sheet and when completed create a fabulous 3D miniature model.

Easy to follow printed instructions included in every package.

Build your entire collection today!

Fascinations Metal Earth – Star Wars E9: Rise of Skywalker – Sith Tie Fighter 3D Metal Model Kit

Perfect gift for any Star Wars fan!

Features a metal model kit of a Sith Tie fighter from the film the Rise of Skywalker.

Brand: Fascinations

Character: Star Wars

Color: Multicolor

Ages 14 years and up

Inspired by The Rise of Skywalker
Here below is a photo of this cool model kit: